Washable dog beds made from memory foam make excellent dog beds.
…and of course by memory foam washable dog beds, we mean the cover.
The best ones will not only be made of thick, high density foam, but will also come with a covering that is well made to withstand repeated washings.
These beds don't flatten over time like loose-fill beds will and even more importantly your dog with get maximum comfort for their joints.
This will promote better sleep and a healthier animal.
You can buy memory foam beds in pretty much any size, so no matter if your dog is big or small, you will be able to find one to fit. While they won't flatten, you will need to remember to wash the cover frequently to avoid dirt and fleas that may irritate your dog.
Larger dogs will require a thicker memory foam, simply because of their weight.
If you have a bigger dog, you will want to go with at least 7" of foam. This will insure that the dog still gets plenty of cushioning and that the bed wont lose it's shape due to the larger sized dog sleeping on it.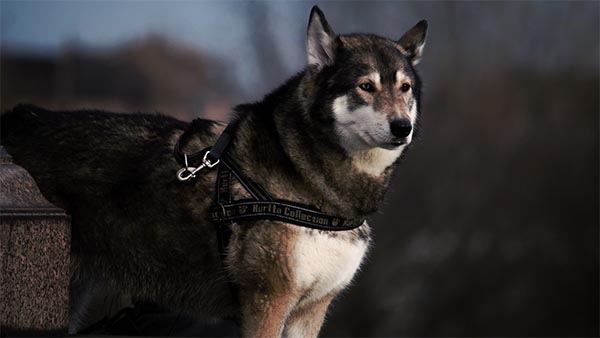 Big dogs can shed a ton just because of their larger surface area, so a good micro-fiber type cover is essential so that you can frequently wash it.
These beds will have a higher price tag because they are bigger but if you buy a bed that is too small for a large dog it will not hold up over time and you will end up spending more money replacing it.
Smaller dogs obviously need smaller beds!
But because smaller breeds can be more difficult to house-train, you will want to consider a bed with a waterproof layer underneath the removable cover just in case of accidents.
This is also common with new puppies. Learn more about our thoughts on puppy care here .
Features such as a non-slip bottom especially on hardwood floors is also something to consider as it makes it easier for your dog to get in and out of the bed without having it slide across the floor.
Elevated dog beds are also something to consider, particularly if you live in a warmer climate.
These beds are great for outdoors and patios and they are generally made from cool, breathable mesh materials that will not only be resistant to mold and mildew and pests, but will also help keep your dog cool during the hot summer months.
Many times these beds will get an animal off the hot ground or patio stones and make them much cooler than they would otherwise be. They will usually have a PVC or metal frame and they will be versatile for both indoor and outdoor use.
Orthopedic dog beds are something to consider
…if you have an older animal that has bone and joint problems.
As dogs get older and their joints get worse, it can be hard for them to get comfortable.
These beds will cushion the dog's body to reduce joint pain and improve mobility. These beds can get a little bit expensive, but they are carefully engineered to provide optimal support and maximum comfort for older dogs. They will offer more support than most memory foam beds that you can find.
Features like non-skid bottoms and also removable, washable, covers are also standard on most of these beds.
We really like the Big Shrimpy washable dog beds.  The Big Shrimpy name has been around a while and may dog and cat owners that come into our shop speak highly about this bed.
You can learn more about the Big Shrimpy washable dog beds and all of their other products on their website at www.bigshrimpy.com